July Update
Greetings Friends,
I trust you are experiencing a rich and engaging summer. Some of you are enjoying needed holidays and a season of renewal. Others of you are neck deep in the busiest time of the year. Wherever you find yourself right now may you be allowing God's Spirit to guide and lead you in real and tangible ways.
---
Here at the OCMBC offices we are diligently working on many items that often do not get addressed during the year. At the same time we have also been engaged in various ministry opportunities. I was in BC in June for the MB Leadership Summit and presently find myself speaking at a few different churches. Most recently I was in Leamington, and had a wonderful time with the Meadow Brook Church community. Kristi spoke at Camp Crossroads for Kids Camp and then returned a second week with her whole family to serve. She chose to assist with the Bike ministry while her husband Matt assisted with maintenance work. Both experiences proved to be very positive. We are now gearing up for a very full fall.

---
At the Leadership Summit (June 21-22) at Cedar Springs Retreat Center, Blaine Washington – attended by Karen West, Philip & Robyn Serez, Trevor Seath and myself, we began to dig deep into what a restructured national/provincial relationship could look like. Some great ideas emerged and a task force was struck to work diligently at the practical next steps. For more understanding of the MB mission & C2C Network merger check out this page.

---

---
September 21-23, 2017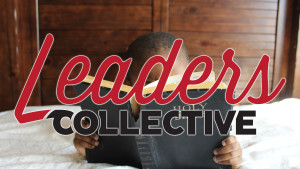 A Second Cohort of Leaders Collective begins with a fall retreat for young leaders Sept. 21-23 in Niagara. Pray for this new group as they begin to dig deeper into who they are as leaders and who God has called them to be. We will focus on clarifying their calling, developing Christian character, and expanding their competence as leaders. We long to see the next generation empowered and equipped to really make a difference in our world.
---
September 26-29, 2017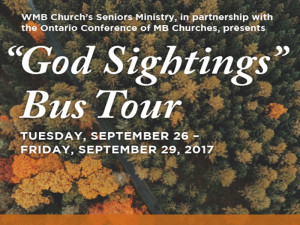 In partnership with WMB, we are pleased to present "God Sightings" a bus tour to Ottawa for early retirees and seniors.This tour is open to individuals and couples from any of our MB Churches across the province. It is designed to expose participants to some of the various ministries across Ontario as well as a chance to visit beautiful Ottawa attractions. Registration details can be found 
here
. The bus is filling up so register today!
---
October 19, 2017
OCMBC Pastors and Leaders are invited to take part in a day-long Spiritual Retreat at Crieff Hills Retreat Centre. This one-day event will focus on facilitating your personal time with God, listening to God's voice in silence and solitude, in scripture, and in nature. Click 
here
 for more details and to register. Deadline for registration is October 1.
---
November 1-3, 2017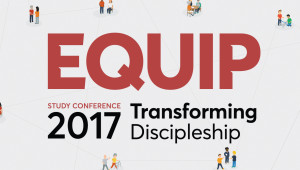 Equip 2017 is the bi-annual study conference of our MB family. This particular discipleship training event looks to be fantastic. With many important national changes taking place, it will also serve as an official AGM for our National Conference. The merger between MB Mission and C2C Network will be decided during those days. Click 
here
 for registration details.
---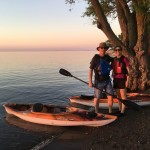 Summer is a great time to reflect on God's greatness and power. Don't miss the chance!
Thanks again for your partnership in ministry. God is at work. He is the God of creation as well as the God of reconciliation. What a privilege to serve such an amazing King.
On mission with you,
Ed