Hungry Hippo and Hungry People

The question hung in the air….
I fumbled for an answer… there was a long, awkward pause as I searched for a way to frame my response…
I knew my answer would be 'no'  and I knew that they would be shocked.
"No, I have never been hungry due to a lack of food. "
For us from the West, we may have fasted or tried to shed some weight causing our stomach to growl on occasion… but most of us will readily admit that we have never truly felt hunger due to lack of food.
The question had come up while we were sharing a simple lunch together.  I (Deanna) was in Muramvya leading a training with the teachers from Harvest Primary School when the topic of the present devastating famine arose.  Due to erradic rainfall (way too little in some areas and torrential in others) combined with the political situation, many are suffering.  An article we read yesterday estimated that 1/3 of the Burundian population is affected.  This means that people who were eating once a day at best before are now literally starving. Burundians continue to flee the country at an alarming rate with the estimated total expected to reach half a million.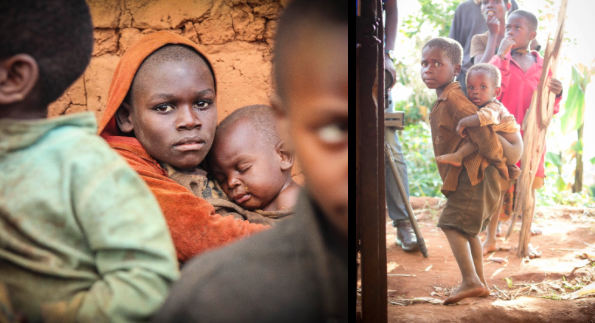 Our partner, Harvest Initiatives, has begun responding to the situation.  So far, $32,000 (of a desired $80,000) has been raised for food distributions to take place over the next 4 months in 5 Batwa locations were Harvest is presently working.  The plan is that this food (and seed for planting) would tide people over until the next harvest.

Last week, I (Doug) was meeting with a friend from Harvest who is sensing a call to work with Muslims in Turkey.  Innocent told me he was heading to church where he would be preaching. He explained that the church is nearing the end of 3 weeks of fasting… fasting in order to hear from God.  They are asking God what He has for them as a community of believers in the days to come.   ARE YOU CATCHING THIS?  In a country experiencing deep physical hunger and within this challenging context, others areintentionally going without food to seek the face and the voice of God.

It seems that in a setting of insufficiency, people are indeed finding their sufficiency in God and all that He is.  God is at work here in Burundi.  God is on the move and there is more to come!
Pray with us…
Pray for the many Burundians who are struggling to feed their families.  Pray for wisdom for the Harvest leadership as they try to meet these massive needs.
Pray for the growing number of relationships we are developing with young Burundians desiring to serve God with all their lives.  Pray that God would indeed be creating a movement.
Pray for the network of churches that we are interacting with.  Pray that God would continue to lead them into His mission and His plans.
We praise God for the powerful meeting in Nairobi last month with leaders from around Africa. God met with us and challenged us all.  We are also thankful for the hard working media team that came to help train and capture two stories that we trust will touch lives and promote the work here (stay tuned for more on this later!). Thank you so much for praying with us and for us during this last month.
Love Doug and Deanna
Maddy, Keza and Avery