May Update
Greetings Friends,
May – what a wonderful and crazy busy month it has been. I've seen the delight of new birth, been challenged with end of life issues, walked through a dark season in one of our churches, and experienced an abundance of God's grace across our Conference. Let me give you a quick overview.
---
First off, on a very personal note, I have to comment on the arrival of Karin and my first grandson. His name is Eli Hardy Tiessen and he is an absolute treasure. Other grandparents reading this post can appreciate the amazing delight. To witness the power of creation up close and personal is truly humbling. We are so thankful for Eli's health and spunk. Since he will grow up surrounded by BC mountains, we will be seeking special status with WestJet.
---
Early in May, I attended our national Board of Faith & Life meetings in Winnipeg. These were good days as we pursued positive national alignment. A highlight was the return of Willy & Gwen Reimer to our meetings, an attempt to bring a healthy closure to Willy's time of ministry with CCMBC. The process was rich and emotive.
One significant item of business for the Executive Board was the proposed merger between MB Mission and C2C. A more detailed update can be found here. There will also be a national conference call on June 16th. Check out the details on how to participate right here.
---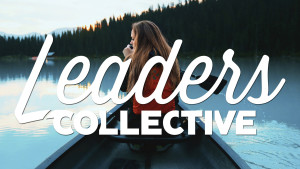 This fall we will launch the second cohort of 
Leaders Collective
. You can discover what this entails by going to the Leaders Collective 
website
. We have an emerging group of young leaders entering the selection and affirmation process during the early weeks of June. Would you pray that the leaders whom God would have participate in this process be discerned and prepared for a great year of learning. Pray for Robyn Serez who is giving point leadership to this cohort.
---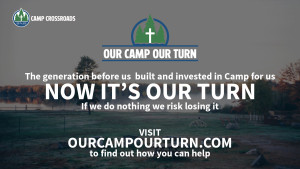 I'm thrilled to inform you that Camp Crossroads has begun a capital campaign to upgrade and refurbish our Camp. Now is the time to engage in this new and timely opportunity with our Camp. Please find all the details of this project right 
here
.
---

---
This May was also the 10th anniversary of The Jesus Network in Toronto. I regret that I could not attend the Banquet celebration on May 6th. Some of you were in attendance and I heard it was a fantastic evening of praise to God. Continue to pray for this most critical ministry – especially during the present season of Ramadan.
---
Finally, could I ask you to pray for two upcoming events: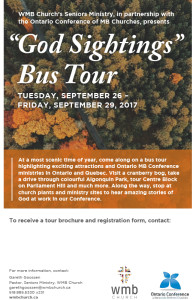 • This weekend I'll be in Ottawa to connect with numerous churches and leaders. In particular, I'll be part of 4 pastor credentialing interviews. These are always rich experiences. Pray with me for our three churches in Ottawa and the new church plant that is set to launch in fall.
• This fall, we are offering a bus tour to Ottawa for early retirees and seniors. In partnership with Waterloo MB, we are pleased to present "God's Sightings", Sept. 26-29. For full details and registration click 
here:
 This tour is open to individuals and couples from any of our churches across the province. I think it has the potential to be an amazing tour where participants will be exposed to some of the various missional activities we share across Ontario.
Thanks again for your partnership in ministry. God is at work. He is the God of creation as well as the God of reconciliation. What a privilege to serve such an amazing King.
On mission with you,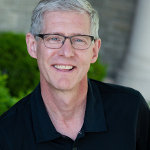 Ed