December  Update
Greetings Friends,
Christmas is upon us. What a rich and full season. A great opportunity to share the love of Jesus with those in our spheres of influence. Between banquets, new church services (such as the first one ever on the Wahta Reserve near Bala ON) and all manner of creative expressions, so many of you are going for it.
---
I had the privilege of attending the Nativity Festivity Dinner Theatre at New Hope Church Niagara. This annual event has become quite a hit. Kristi Lee, my ministry assistant was part of the cast, all of whom did an amazing job. "Stick with me, Babe" was written by Mandy Kasper and Nathan Braun. In addition to touching on some significant real-life issues at Christmas, the dinner and silent auction was also a fund raiser for an orphanage in India. New Hope exceeded their expectations and celebrated as 20 children of India were sponsored. Thom Braun did a great job of passionately sharing the need found in this community in India. The guests that I brought said it was the best Christmas event they had ever attended. High praise indeed!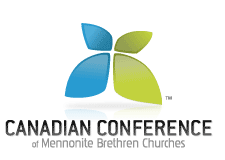 In the mix of celebration, we also find ourselves facing some sobering experiences. By now you all know that there was a shake-up in our national MB head office. At the end of November our Executive Director Willy Reimer's tenure ended. Fortunately, Willy could close out the year by attending various staff parties in Manitoba and BC. As much as this change was a surprise to many of us, we continue to believe that God's hand is in this. May I invite your ongoing prayer support for Willy & Gwen during this transition.
---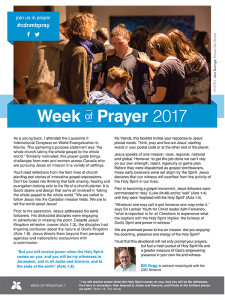 With 2017 just around the corner, let me point you to a few great opportunities coming in January.
The week of January 22-29 has been selected as a week of prayer for MB's across Canada. A prayer guide is included right here.
Also, many of you will recall the great time we had with Gordon & Gail MacDonald at last year's Convention. Well they will be in Niagara again on January 25-26. If you can make it, I'm sure you will find the time with them to be most delightful.
An inter-denominational Pastor and Spouse event sponsored by
Thrive Ministries
is bringing them to Niagara. Check out the details if you are interested in knowing more.
I also want to point you to two fascinating resources. The 2016 Convention year book has just been completed. If you want a reminder of that experience you can find it here.
---
Also, if you are looking for some reflective TV viewing this season, check out CBC Manitoba's documentary on the Conscientious Objectors in Canada during WW II.  Several of the stories are by MB folks from that era. This part of our history is worth new consideration in our world so torn by war.
---
Praise and Prayer Items
Join us in Praise with 
New Life Christian Church
 in Toronto as 12 are following membership classes with 3 preparing for baptism. Please Pray that the many people that visit from the Hindu faith will come to know the Lord.
Pray for Jesus Network as they support the first Afghan Church in Toronto! Obaid, former Taliban fighter, is now working with them to plant the first Afghan Church in Toronto! More at www.facebook.com/afghanchurchtoronto or email obaid@jesusnetwork.ca
•January 17 – OCMBC Board Meeting
•January 20-22 –
EMBRACE
| MB Mission
•February 21-23 –
PCO
Ontario
•February 24 – Pastor & Leaders Day Niagara
---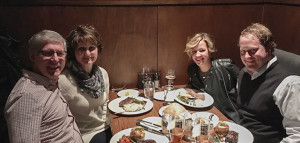 The small staff here at OCMBC – made up of Kristi and myself had a Christmas party with our spouses this week. It's been nearly a year now since Kristi joined the team. Together, we are so grateful for the chance to serve each of you. We cherish your prayerful support and words of encouragement.
Season greetings and may God bless you richly this Christmas season.
On mission with you, Ed